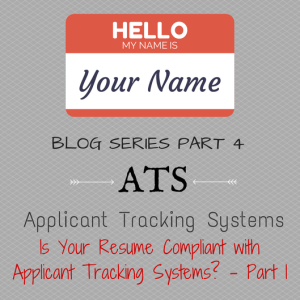 Newer applicant tracking system (ATS) software doesn't simply identify keywords and apply a score based on how many times that keyword appeared.
It's not enough to have the right keyword in the resume. Instead, the system looks for relevance of the keyword to your work history and/or education. Those keywords are analyzed and weighed in the context of the entire resume. Also considered in context is how recent the desired skill has been used, and the depth of knowledge the candidate possesses of the topic by assessing whether relevant and related terms are also present in the resume in relation to the keyword or phrase.
For resumes analyzed by an ATS, it is important to include as much relevant information as possible. Inadvertent omission of key data can be the difference between having your resume appear in a list of candidates meeting search criteria and not making the cut.
For example, if you are pursuing a degree or certification, it should be included in your resume (labeling it as "in progress" or "pending completion"), because a hiring manager may search for a specific type of degree or keywords contained in an area of study.
If the missing information is keyword-rich (i.e., a relevant job, educational credential, or certification), that can negatively impact the resume's rating and, therefore, the likelihood of being selected for an interview.
Keywords can be nouns, adjectives, or short phrases — and describe unique skills, abilities, knowledge/education/training, and/or experience.
How can you find the keywords or search terms that are likely going to be used to query the ATS?
–        Review job postings for the type of position you're seeking
–        Analyze your current job descriptions and job descriptions of positions similar to the one you have, and the one you want
–        MyNextMove (http://www.mynextmove.org/)
–        Occupational Outlook Handbook
–        Dictionary of Occupational Titles (www.occupationalinfo.org)
–        Occupational Outlook Handbook (http://bls.gov/ooh/)
Resume effectiveness goes beyond the ATS
Once your resume pops up in the ATS search results, it needs to reflect what the recruiter or hiring manager expects from a candidate with the qualifications they desire.
Think about when you're conducting a search on Google. You type in your search criteria, and a list of results appears. You begin clicking on results and can tell within a matter of seconds if the item fits what you were looking for. If it does, you'll read further. If it doesn't, you'll click onto the next result. The same is true with the ATS.
Next, we'll go beyond the content and focus on how to format your resume so an ATS can pull the right information and put in the right place.
Note: This blog post only touches on certain aspects of this topic and is not a comprehensive list. This blog post is an educational and informational resource for job seekers and is not a substitute for working with a resume writer or other professional. See our Terms and Conditions for additional information.