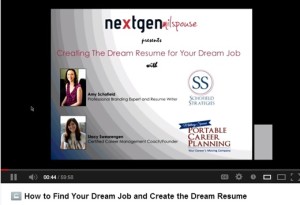 Schofield Strategies is excited to offer a free resume webinar on the topic of "Finding Your Dream Job and Creating Your Dream Resume" with Military Spouse Portable Career Planning.
Tired of sending hundreds of resumes, only to have them end up in the infamous "resume black hole? This webinar is jam-packed with tips and tricks to pump up your impact!
What you'll learn in the Resume Webinar….
How to find the "hidden" job market and where to locate the non-traditional job search sites.
Ways to use LinkedIn® effectively in the job search process.
The real reason you aren't getting a call-back.
Why it's better to send a single, stellar resume than a hundred so-so ones.
Do you have any topics you'd like us to cover on future webinars? If so, please fill out Schofield Strategies' contact form.