Research shows that job seekers can increase their chances of obtaining a job if they can get their resume right into the hands of a hiring manager. Most of the time, though, job postings will not have the hiring manager's information.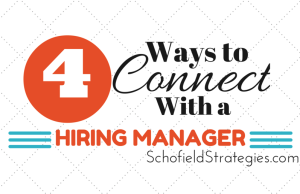 Ways to Connect With a Hiring Manager
1. Use LinkedIn: Search on LinkedIn to see if the company has a Company Page. To do this, use the search bar at the top when you are signed into LinkedIn ("Search for people, jobs, companies, and more…"). Change the search field to company. Do some research to see if you can identify a specific individual within the company who may be able to help you connect with the hiring manager. You can then see if you have any connections in common and ask to connect.
2. Use Google: Google the company name, department name, and/or job title. For example, if you're looking for the name of the person who manages the marketing department at a company, use Google to search for "marketing manager name of company." Your Google search results may show the name of the hiring manager in an article, website, or even another job posting.
3. Use Your Network: Do you know someone who works at your target company? (Again, LinkedIn can be a good way to find this out). Do you know someone who knows someone who works there? Using your network is an ideal way to get your information to a hiring manager.
4. Use the Company Website: The company website is an excellent research source for finding a specific manager. Look for an "About Us" page, check to see if there is a "News" section, or see if the website has a separate page for each department with contact information.
These are some strategies that can help you find the name of a hiring manager, which may ultimately increase your chances of getting your resume to the right person and standing out. Take the time to perform this research!
Note: This blog post only touches on certain aspects of this topic and is not a comprehensive list. This blog post is an educational and informational resource for job seekers and is not a substitute for working with a resume writer or other professional. See our Terms and Conditions for additional information.