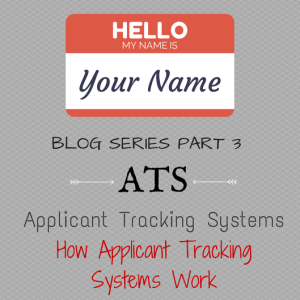 There are numerous different ATS software programs on the market. While all applicant tracking systems are slightly different, they all work in a similar way; by allowing for filtering, management, and analysis of candidates for a particular job opening.
This is our third post on applicant tracking systems. If you missed the first two posts, start here.
How an ATS Scores a Resume:
An ATS scores information in the resumes submitted by pulling them apart and placing information in specific fields within the ATS database, such as work experience, education, contact data, etc. The system then analyzes the extracted information for criteria relevant to the position being filled — such as number of years of experience or particular skills. Then, it assigns each resume a score, giving the candidate a ranking compared to other applicants so recruiters and hiring managers can identify candidates who are the "best fit" for the job.
Criteria used by the applicant tracking system to determine a match includes:
Appearance of a keyword or phrase — this can be measured by its presence in the document as well as the number of times the keyword or phrase appears.
Relevance of the keyword within context. Does the keyword or phrase appear with other keywords you would expect?
The higher the resume ranking, the more likely the application will end up being reviewed by a human set of eyes.
Success in navigating an applicant tracking system isn't simply about the volume of keywords and phrases — it's the right keywords and, in particular, how unique those keywords are. Most jobseekers include the "obvious" keywords, but many applicant tracking systems put value on related keywords, not those specific terms.
Applicant tracking systems see some keywords and phrases as more "valuable" than others. Many systems also allow the hiring manager or recruiter to "weight" criteria, applying greater significance to certain terms or qualifications.
Hiring managers can also apply filters to further refine the candidate pool. For example, geographic or educational criteria. They can also specify keywords as either "desired" or "required," which affects rankings.
In many cases, however, the system itself determines the most relevant keywords and phrases, as outlined in the job posting.
Companies that create applicant tracking systems continue to refine their processes and algorithms and the systems are becoming less expensive as more providers enter the market.
Jobseekers must continue to learn to adapt their career communication documents to meet the needs of both humans and computers.
It will take some serious thought and intention to create a resume that ATS will be able to read and identify you as a viable candidate. In our next post, we'll talk about how to set up your resume so boost your chances of being seen by the system.
Note: This blog post only touches on certain aspects of this topic and is not a comprehensive list. This blog post is an educational and informational resource for job seekers and is not a substitute for working with a resume writer or other professional. See our Terms and Conditions for additional information.