Amy was featured as the final military spouse-owned business during Operation: Create Your Own Path, a 30-day online event featuring 30 military spouse entrepreneurs from across the globe, hosted by the Military Spouse Business Association.
Amy was honored to be interviewed by fellow military spouse Michelle Schrock. The full post can be viewed on Michelle's blog.
Below are a couple of excerpts from Michelle's write up about Schofield Strategies:
"Besides her professional background and military expertise, Amy also brings one more vital tool to her business…passion. She truly cares and is motivated by the success of her clients. She takes a personal approach in getting to know not only the data but the person she supports as well. She knows that her one-on-one approach is the key to her success."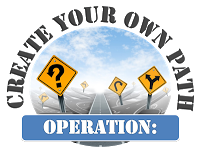 She leads with her heart and adds a little something of herself to every interaction she has. Amy helps veterans redefine themselves upon separation from the military so they can pursue their dreams in the civilian sector. She encourages spouses who are hesitant about reentering the workforce by creating dazzling resumes highlighting their skills. And networking with other entrepreneurial spouses and blogging allows her to share her knowledge of business branding. Amy knows that personal connections only help to strengthen a professional interactions and she takes every opportunity to develop those relationships daily.
Thank you to the Military Spouse Business Association and Michelle Schrock for this honor!!