This interview with Amy Schofield, of Schofield Strategies, originally appeared on Successful Military Wife.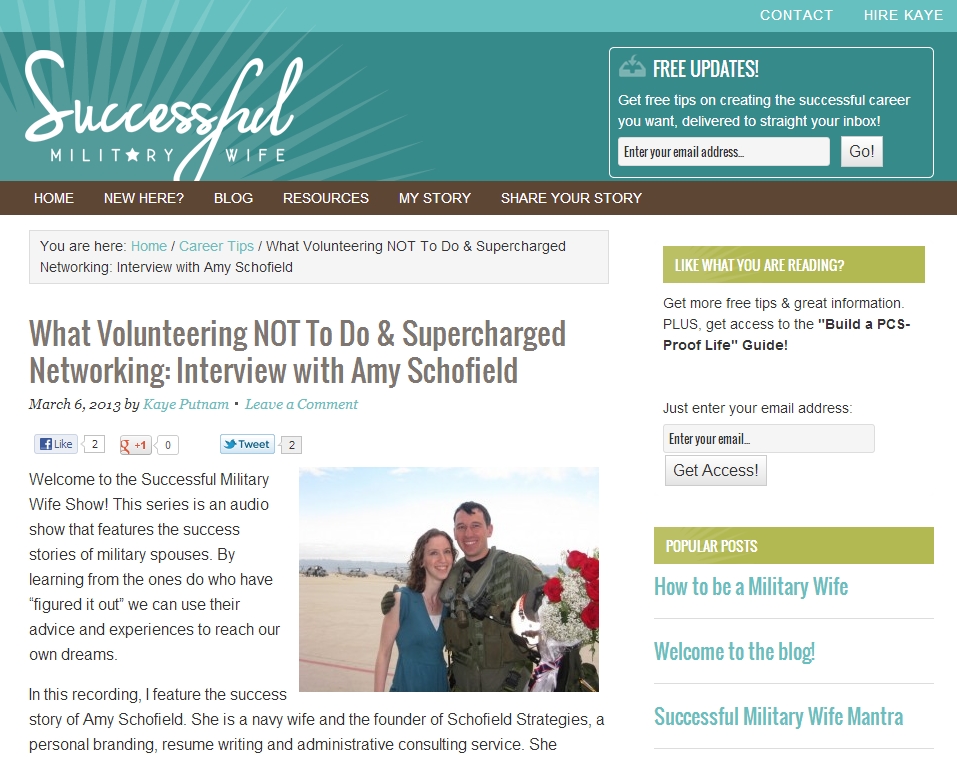 By: Kaye Putnam
Welcome to the Successful Military Wife Show! This series is an audio show that features the success stories of military spouses. By learning from the ones do who have "figured it out" we can use their advice and experiences to reach our own dreams.
In this recording, I feature the success story of Amy Schofield. She is a navy wife and the founder of Schofield Strategies, a personal branding, resume writing and administrative consulting service. She founded Schofield Strategies in 2011, and has built her business to a waiting list of clients several months long. Amy is also a successful grant writer. One of her winning grants was honored in a ceremony at the United States Pentagon.
My favorite part about Amy is not only is she incredibly successful with her (relatively new) business, but she operates completely online. Running an online business, whether it is selling a product, service (like Amy), or leveraging an audience (by selling advertising) is an ideal solution for the military spouse career problem. She gives advice for getting started, and her 2 most powerful tools she has used to market and grow her business.
Amy is an absolute sweetheart and was a joy to talk to. I know that you'll enjoy listening in on our chat. Specifically, you'll learn:
Tips for creating an online business that is location independent
Amy's secret tool to growing her business
When you should join a professional organization
Learn how to give yourself credit for your accomplishments
Save thousands of dollars in lost revenue by speeding up your job search
What kind of volunteering NOT to do
Learn how to make your business ultra-shareable
Learn free resources you can use to run your business
(My advice for people who are thinking about starting a business?) Just jump right in. I know a lot of people who are thinking about starting their own business, but are hesitant to make that leap. – Amy Schofield
I know that Amy has a lot more knowledge to share, and I plan to have her on the show again sometime soon to discuss her LinkedIn® strategies.
Best Business Purchase (software, specific conference, education, etc)?Membership to National Military Spouse Network and National Resume Writers' Association
Favorite Business Resource (app, class, mentor, etc)?  My mastermind group! We meet a few times each month!
Favorite Business Website?  Too many to list! There are a TON of excellent websites and free resources if you take the time to do your own research
Resources
Schofield Strategies Website:
http://schofieldstrategies.com/
National Military Spouse Network:
www.nationalmilitaryspousenetwork.org
Resume Best Practices for Military Spouses (Infographic):
http://schofieldstrategies.com/resume-best-practices-top-tips-for-military-spouses-infographic/
Article about Professional Networks that Amy is quoted in:
http://www.salutetospouses.com/articles/careers/professional-associations-keep-military-spouses-top-their-games
Blog post about working with Amy:
http://welcometotheblogofanarmywife.blogspot.com/2012/07/polish-up-that-resume.html