157 Companies with Work-From-Home Positions!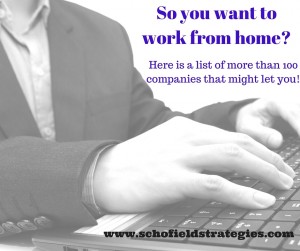 One of the most-asked questions that we receive is, "do you know of a company that hires candidates for work-from-home positions?" Well, yes, we do… in fact, we know of 155+ companies that have work-from-home positions! 
The grand list below.
Schofield Strategies, LLC has personally researched the careers page of each of the companies that appears on this list to ensure they offer work-from-home positions.
When searching for work-from-home positions on a company's careers page, keep in mind that some of these companies list their work-from-home positions as "virtual", "remote", or "telecommute" positions. Also, they may not have a work-from-home position available at the moment so make sure you bookmark this page so that you can keep checking back!
Work-from-home positions are found across a variety of fields, including customer service, education, graphic design, healthcare, information technology, marketing, project management, sales, and writing.
Remember to tailor your resume to each position that you are applying to. If you would like guidance on how to create or update and tailor your resume, please contact Schofield Strategies, LLC.
Keep in mind that companies may have a cross-section of work-from-home positions. For example, Aetna, a health insurance company, has work-from-home positions in the following fields: project managers, IT developers, provider relations specialists, case managers, financial reporters, marketing managers, business analysts, clinical consultants with an RN license, and of course health insurance managers. So while you may think that a company only offers one type of work-from-home position, you may want to think again.
Please make sure to let us know if you are hired by one of these companies!
1-800-Flowers
A Pass Educational Group, LLC
About.com
Adobe Systems
ADP
AECOM / URS
Aetna
Allegis Transcription
Allergan
Alpine Access
Amazon
America's Career Force
American Express
American Heart Association
American International Group (AIG)
American Support
Appen
Apple
AuPairCare
Autodesk
BabyList
Bank of America
Bausch & Lomb
Birch Creek Communications
Black Rock Investment Company
Blackboard
Boston Medical Center
BroadPath Healthcare Solutions
BroadSpire
CACI International
Carenet
CGI
Cigna
Clarity Consultants
ClearedJobs.net
Code of Support Foundation
Computer Sciences Corporation
Conifer Health Solutions
Connections Academy
Convergys
Coventry Health Care
CVS Caremark
CyberCoders
Defense Acquisition University
Defense Contract Audit Agency
DataMetrix
Dell
Deltek
Disney
Ecolab
EGS
Emoderation
Enterprise Holdings
Enterprise Rent-a-Car
Entreprenaurs' Organization
Examiner
Express Scripts
Fearless Social
Federal Highway Administration
First Data
Fonemed
Forest Laboratories
General Electric
Github
Glassdoor
Global ETraining
GoFluent
Healthfirst
Health Net
Hertz Rent a Car
Hilton
HSN
HTD Worldwide
Humana
IBM
Infor
Institute for Policy Studies
Intuit
Intrepid Learning
Jobble
John Hancock
K12
Kaiser Permanente
Kaplan
Kelly Services
Kenexa
Kronos
LanguageLine Solutions
LINE1
LiveOps
Lockheed Martin
MadSkills
Magical Vacation Planner
MaineGeneral Health
ManTech
Martinsburg College
MassMutual
Maxim Health Information Services
McKesson Corporation
Merkle, Inc.
MetLife
Microsoft
MilitaryByOwner Advertising
Modern Tribe
Mom Corps
Mozilla
Nielsen
Northrop Grumman
Notarize
Novartis
Optum
Overland Solutions, Inc.
Patch
Patient First
Pitney Bowes
Pearson
Prudential
Quicken Loans
Red Hat
Resource Spectrum
Rosetta Stone
Salesforce
SAP
Sirona Health
Sitel
Sodexo
Stitch Fix
Sutherland Global
Symantec
Talkspace
Teach for America
Teletech
Teradata Corporation
TEKsytems
The Hartford
Thompson Reuters
TMT Medical Transcription
Tutor.com
Tutors By Base
U-Haul
UnitedHealth Group
University of Maryland University College
University of Phoenix
USAA
U.S. Census Bureau
U.S. Department of Agriculture
U.S. Department of Transportation
U.S. Patent and Trademark Office
VIPKID
Walden University
Wells Fargo
West at Home
Westat
Wise Advise and Assist Team
World Travel Holdings
Xerox
Zeiders Enterprises
Do you know of any other companies who offer work-from-home positions? Make sure to let us know!
Schofield Strategies®, LLC, founded by Amy Schofield in 2011, offers resume development and job search strategies to job seekers of various backgrounds and experience levels from around the world. Most of our resume clients are military spouses and transitioning veterans.
In addition to working one-on-one with our resume clients, we also work with organizations across the country, including MySECO, ClearanceJobs.com, NextJob, and Blue Star Families by providing employment-readiness consulting and developing effective products and tools to help their customers, such as resume samples, job search content, checklists, tutorials, and toolkits.
Schofield Strategies, LLC was the recipient of the 2013 Military Family Member Community Heartbeat Award. Amy Schofield is one of only a small handful of military spouses who hold a certified resume writing credential. She currently serves as the Resume Expert for the National Military Spouse Network.
Need your resume, cover letter, LinkedIn profile, or professional bio critiqued, updated, tailored, or written from scratch? Contact Schofield Strategies, LLC today!
Note: This blog post only touches on certain aspects of this topic and is not a comprehensive list. This blog post is an educational and informational resource for job seekers and is not a substitute for working with a resume writer or other professional. See our Terms and Conditions for additional information.