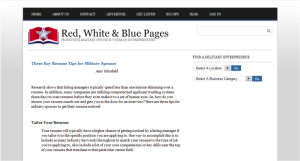 This article originally appeared on the Military Spouse Business Association's Red, White & Blue Pages on October 13, 2013.
Research shows that hiring managers typically spend less than one minute skimming over a resume. In addition, many companies are utilizing computerized applicant tracking systems these days to scan resumes before they even make it to a set of human eyes. So, how do you ensure your resume stands out and gets you in the door for an interview? Here are three tips for military spouses to get their resume noticed:
Key Resume Tips for Military Spouses 
Tailor Your Resume:
Your resume will typically have a higher chance of getting noticed by a hiring manager if you tailor it to the specific position you are applying to. One way to accomplish this is to include as many industry keywords throughout to match your resume to the type of job you're applying to. Also include a list of your core competencies or key skills near the top of your resume that translate to that particular career field.
Show Your Accomplishments:
Your resume is not a job description, it is a personal branding document, so instead of using phrases like "responsible for", you should use strong action verbs and quantifiable measurements to truly show off what makes you unique. Objective statements are out; instead, you should include a professional summary demonstrating what makes you the best of the best in your field.
Address Any Gaps:
Your resume should be clear and concise while at the same time address any gaps in your employment. As a military spouse, you may have additional gaps from moving around, so ensure you address these gaps. Volunteering time counts as resume experience as long as it pertains to the job in which you are applying, so volunteering is a great way to address any potential gaps.
When you highlight your skills and accomplishments, demonstrate that you are a good fit for the position you're applying to, and address any potential gaps, you are showing why you are truly unique and that should help make your resume stand out!
Note: This blog post only touches on certain aspects of this topic and is not a comprehensive list. This blog post is an educational and informational resource for job seekers and is not a substitute for working with a resume writer or other professional. See our Terms and Conditions for additional information.